Content Portal
Use the Productsup Content Portal to present your latest product information catalog.
As a product manufacturer, you probably want your sales team to present the latest product information as efficiently as possible. While the Productsup Data View does this well for platform users, you may not want to offer your sales team access to everything. Content Portal gives you that separate interface for you to present the latest product information.
Learn more about Content Portal by contacting support@productsup.com.
Content Portal components
Content Portal consists of two components, the Content Portal interface, and Content Portal Catalog Export.
Here, you can log in to Content Portal. To set up the catalog export, see Content Portal Catalog export.
Note
You need admin access to set up and add new members and catalogs in Content Portal.
For your convenience, you should first set up the Content Portal Catalog Export. However, at this stage, you are not able to save the destination. But don't worry, once you've added a catalog in Content Portal, you can save the destination.
Admin account settings in Content Portal
You can change the language settings from English (default) to French or German.

Select Settings to access your account settings. There are four sections within the account settings: General, Preferences, Catalogs, and Members.

General: This lets you edit the Account Name, add a logo, and provide links to the footer of your Content Portal. The footer can offer additional information to members.

Preferences: Choose the default language for new members.

Catalogs: See Set up a catalog in Content Portal.

Members: This lets you add and manage members.
Invite and manage members to Content Portal catalogs
Select Invite member to add your invitee's email address. You can add multiple invitees in the email field by pressing the enter or return key.

Then assign them a role. You can assign the following roles:

Optionally, you can also invite members to specific catalogs by selecting Invite to Catalogs. You have to grant member accesses per catalog.

Once you've chosen which catalog(s) you want to invite a member to view, select that catalog, and it appears on the right-side. You can choose to select all or each individually.

Lastly, select Send invitation to send an access link via email to your invited member. The invitation expires after seven days unless the invitee accepts it sooner.

You can cancel an invitation by selecting Cancel invitation to Catalogs.

When a member invitation expires, you can choose to resend or remove the invitation by selecting Resend invitation or Remove.
Add a catalog in Content Portal
In a few steps, you can add a catalog in Content Portal.
Select Settings, Catalogs, and Add Catalog.

Enter a Name and Description, and select Save. You can later choose to make your catalog public so everyone can access it without credentials once you edit the catalog.

The catalog now appears in your list of catalogs.

Select the newly-created catalog to modify its settings.

If necessary, you can re-modify the name and description and choose to activate Public Catalog in the newly-created catalog by selecting Edit.
Once you've completed and exported your Catalog Export, you can now modify your Catalog settings.
In Content Portal, select Settings, then Catalogs, and choose your catalog from the list. See the following list of catalog settings to modify your catalog(s).
Permissions
Members: Select your added members so they can access and view each catalog.
Define what others see
Important
You can only use these settings when you have exported the catalog at least once.
Filter Categories: Select the categories and values that appear as filters.

Search Values: Select the values that are available as search values.

Assets: Select which attributes to show as assets.

Attribute Groups: Select which attributes you want to present as groups.
The catalog settings help you effectively present item information and tailor the user experience when browsing the catalog.
View and download catalog information
The following view is the first page a user sees after logging in Content Portal: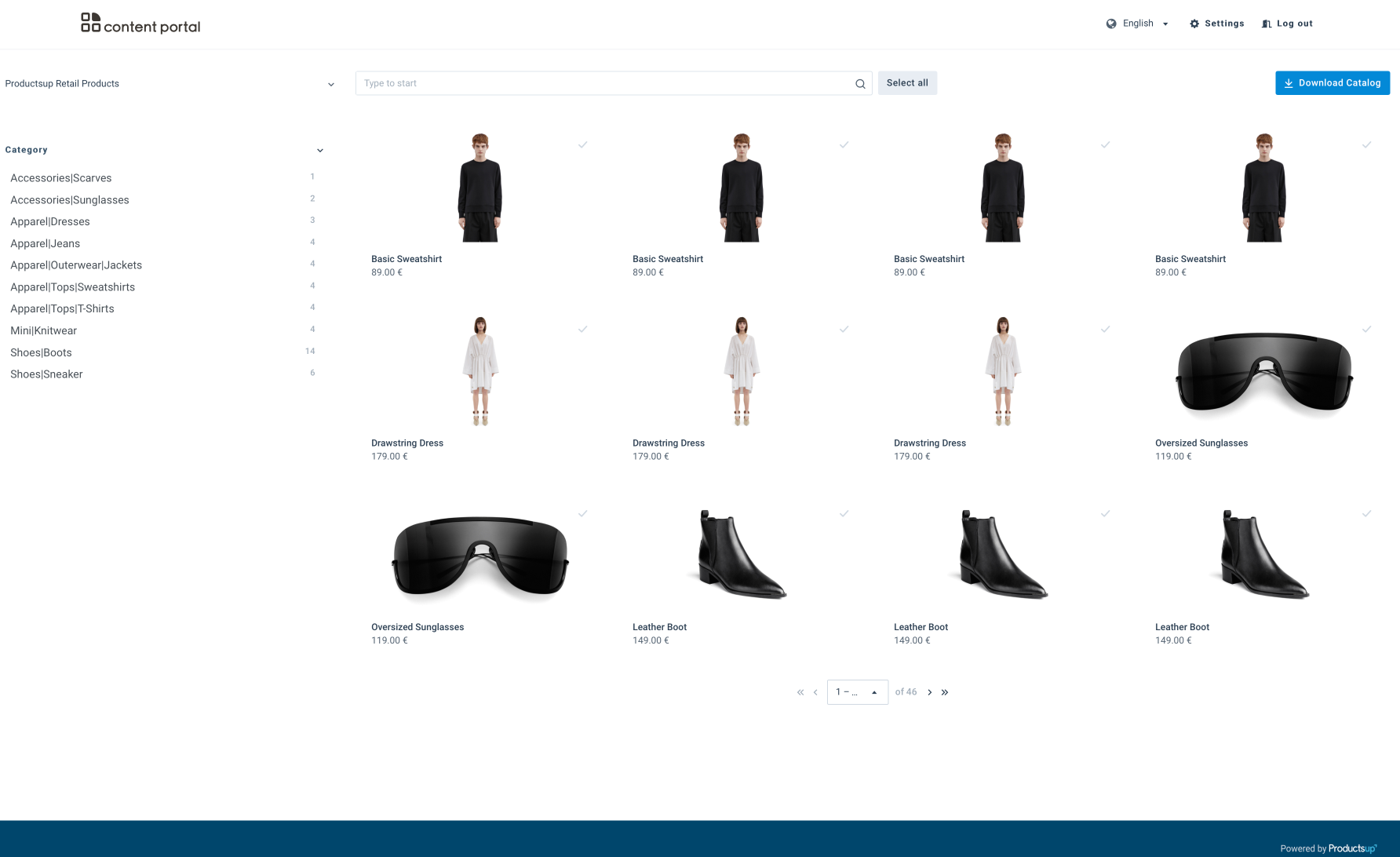 Switch catalogs: Select the catalog name in the top-left corner to switch between catalogs.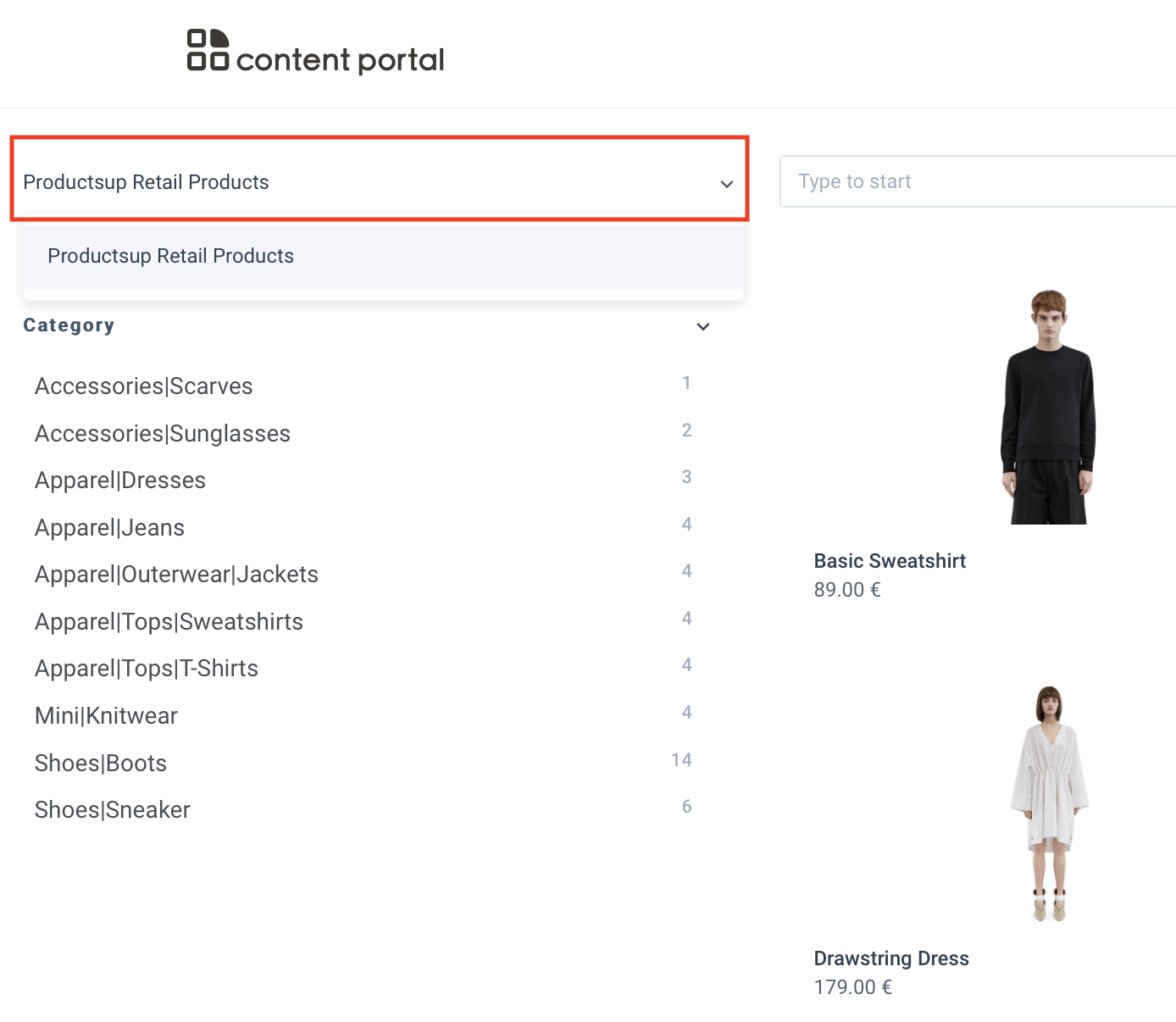 Category: Browse through the products based on categories that you defined in the catalog settings.
Search: You can search for values defined in the settings.
Download Catalog: Select to create a CSV or XLSX (Excel) file containing all product information found in the catalog. The catalog layout comes from the template file that you provided for the Content Portal Catalog export. You can also create a catalog for the selected products by selecting the checkmark for each item, then Export Selected Assets.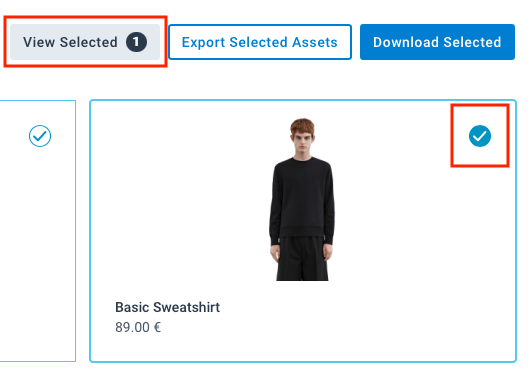 Select a product to see specific product details.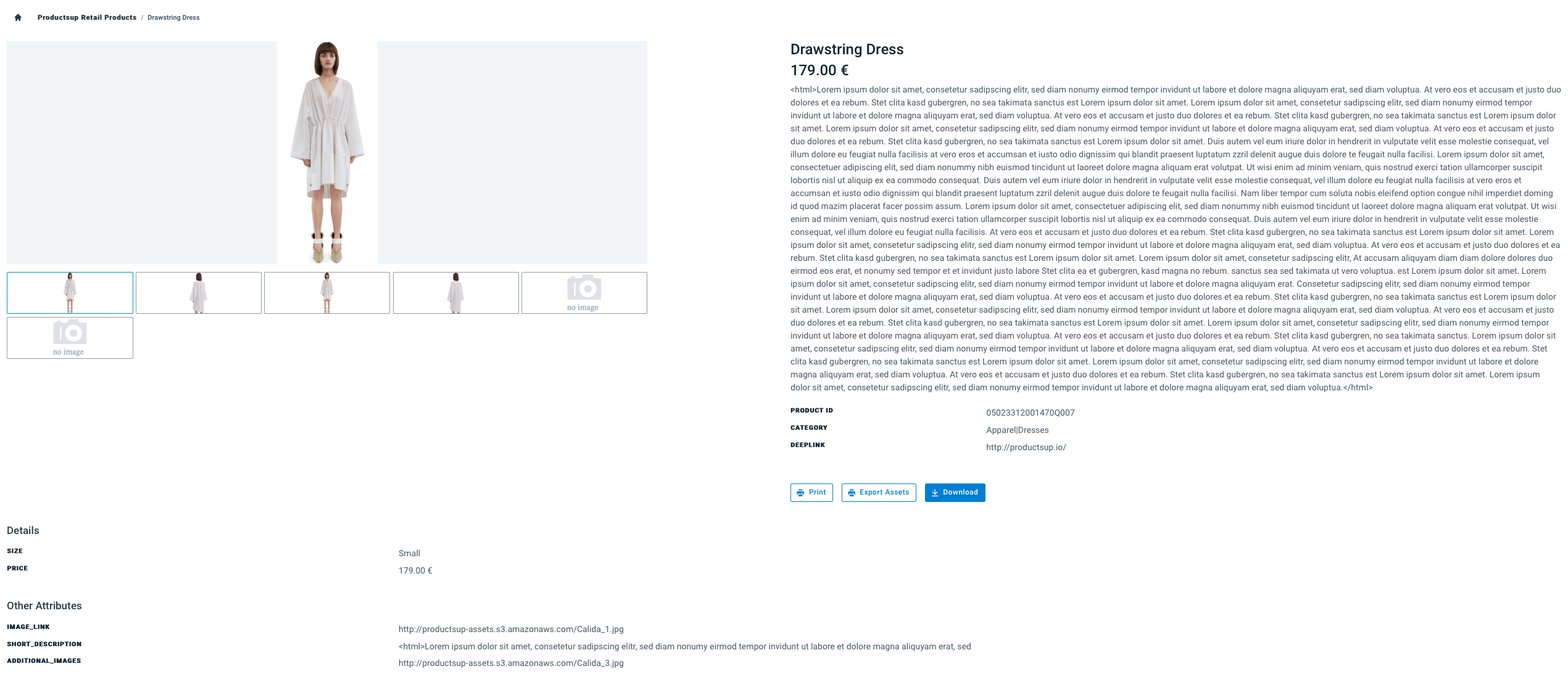 You can see all mandatory attributes on the right of the product image. View additional attributes, which are visible below the mandatory attributes. If you have not added additional attributes to a group, you can see them either via groups that you defined in the catalog settings or under the section Other Attributes.
Print: Prepares the detail page for printing.
Export Assets: Select to create a zip file containing product assets.
Download: Create a product details CSV file for the selected product.